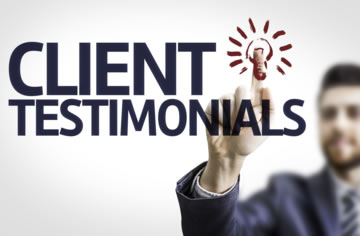 In providing premium legal assistance to each client, our divorce lawyers and the support team have always paid particular attention to customer experience. The empathetic, personalized service we offered has helped us gain fantastic customer reviews and marvelous reputation among the peers. We are extremely conscious of the private nature of the divorce process and its emotional toll on the parties. Therefore, we are deeply grateful that many of our clients have taken the time to provide positive feedback and evaluation regarding our work.   
The following are testimonials from some of our valued clients with whom we have had the privilege of working:
I have nothing but positive things to say about The Zhou Law Group, especially thanks to Natalie, Paul, Stephen, and all the staff that has assisted me with my very complex and difficult divorce case. I had an extremely hard time getting my ex husband to agree on terms and speed up the divorce process with my previous family attorneys, after a year of back and forth and stagnation, I decided to switch to The Zhou Law Group. Natalie was very detail-oriented and goal-oriented which is exactly what I was looking for. It took roughly a year to get everything settled but I wouldn't change a thing about how it went. I am confident to say (unfortunately) if a divorce or any family law matters ever happen to me again, I have Natalie and The Zhou Law Group to count on! If you are in deep with your divorce, look no further! 
—Ziang N.  
When I needed to find a family lawyer, they were quick and intake was easier. The intake was to assess my needs and cost. Once they figured out what I needed then a associate was assigned. I made a initial deposit. Also the billing department is separate from the lawyers which makes it easier because it is a stressful time. And payment can be made via online. (FYI: everything gets billed from email, phone calls, paperwork, photo copies , which shows a breakdown of services ). My lawyer I was assigned was Dorothy M., she and staff have been with me since 2020 and through the pandemic. The pandemic changed how they operate so I would call for appointments since walk-ins are non-existence. Their office is in a building that shares with a bank in San Jose in Alameda district. They were able to be contacted by phone or email and email was the most easiest for me. If need to drop off paperwork there is a mail slot on the door or can use via email. I cannot say enough my lawyer Dorothy & the whole staff have been easy to work with even during frustrating times with the case. For the service I received I give 5 stars but they offer other lawyer services which I did not need for my case.  Remember before you talk to law enforcement or government agency talk to a lawyer!!! It will save you from damaging your case!!! So call them and see if they can fulfill your case needs.
–Bong F. 
Attorney Jackie and her team handled my case with professionalism, compassion, and class. Jackie actually left the firm I originally retained and she left such an impression that I followed her from LA to San Jose. She really gets family law and she truly cares about her clients! The team made sure I had everything I needed to walk into court on my own prepared, and I walked out victorious.
—K J. 
I had wasted about $30K attorney fees before . Thanks god let me Found  The Zhou Law Group. Lawyer Zhou and her team know what they are doing and they really protect your rights and your benefits. They know how to win evils by strong plans, prepared documents, speeches in the court with their sharp mind , strong experience , professional language and appearance.
1.   Lawyer Zhou: Deal with her client with her heart, she is smart with wisdom. She chose the high-quality team members. She listens to me and helps me make decisions with my own intentions. I think that is why she will win the case. She protects you and get Justice for you. She really tried to save my lawyer fee and get what you want at once. Also she try to save your lawyer fee , she just gets points right way. And she knows what is good for you! What ever court document which she Prepared for you , when you read, it will touch your heart . You will find out how much wisdom she has by use every words she wrote on court documents paper. This is an other reason she will help you win the case.

2.  Lawyer Stephen and Dorothy: Excellent courtroom experience that helps me win my case. Lawyer Stephen already helped me won the case and get my lawyer fee back from petitioner ! Dorothy is patient and know how to deal with my unstable mood, she prepared professional documents for the court appearance for me. I strong believe she will help me win the case on coming court day also.  I will keep posting.

3.  Paralegal Paul: Excellent in organizing the documents. He knows the priorities of the docs. He explains to me with clear instructions and easy to understand.

4.   All other support team: Nice and professional when they answer the phone. They can speak English and different language as well. Make everything easier for me. Account manager will email you your invoice and tell where your money went to on time at the end of months.

Wish my true Testimony will help you get what you want and save your lawyer fee by choosing The Zhou Law Group.  There is their contact information. Please feel free to call them just like me did before. You will find out there is hope and support there!!  You will find out They will help you get Justice from who use you, mistreat you and take advantage from your trust, kindness and innocence heart.
–Anne W.

Not only did Rejeanne Eyre save both my and my child's life, but she aided in the delivery of us getting us a clean slate to start life over free from worry, torment and abuse. Upon meeting Rejeanne, she instantly sprung into action helping me coordinate a 1 yr TRO and the ability to legally (and safely) flee the state from domestic violence with a toddler, resulting in securing sole custody. Throughout this 4yr long battle, she has shown her dedication and commitment ten fold in our case. She has always made herself available, has gone above and beyond in making sure my minor child was heard when no one was listening to him state the violence and law enforcement he had been subjected to while in fathers care. The other party however has not made this easy on Rejeanne or on her team, still, her and her paralegal Brandi work tirelessly to help us achieve and shine light on the truths of our case, to counter the other parties lies, slander, intimidation and manipulation of court fillings. Brandi, as Rejanne's paralegal, has swiftly and quickly assisted in emergency request orders,  found to be successful in this case. I have never felt so confident and secure in the care that Rejeanne has attributed to us, and I will forever be grateful for the gift of freedom she's blessed us with. No matter what the cost, I would work myself to the bone day in & day out for the rest of my life to ensure I have her and her team in my corner helping defend me and keep a hold on all that we have overcome. My minor child has now been able to be enrolled in play therapy, as well as I in intensive trauma therapy, and I rest assured that one day we will fully recover and thrive in this life as the beautiful survivors that we are. Throughout it all, I know it would have never been possible without the expertise of Ms Rejeanne Eyre. Thank you Rejeanne, for giving me my life back so I can give my child the life he deserves and properly teach him just what it takes, to be a good human.
–Roxanne M. 
I got involved with a difficult and unfamiliar family law situation and was lucky to get help from Attorney Jackielyn Abellada at The Zhou Law Group. From our first contact, Jackielyn provided clear analysis of my situation with detailed legal research to help me understand my options. I am forever grateful for her breadth of legal knowledge, attention to detail, speed of response, and availability (always squeezing time out of her busy schedule to address my concerns). Jackielyn practices law with a heart; she listens and cares about getting the best outcome for clients. Every team member at The Zhou Law Group that I've interacted with was professional and topnotch in their role too!
–J C
This law firm has the most professional team of lawyers; the lawyers have deep legal foundation, rich social experience, and extremely high professional quality; they are indeed the elites of the lawyers!
—Nancy L.
Joanne Zhou is a super great lawyer. She is nice and very responsible. I highly recommend her.
–Shirley Z.  
Ms Zhou is an excellent attorney you can rely on. Based on my experience, she fully understood what her client's expectation on the case is, and could give a reasonable explanation on whether or not, or to what extent it could be achieved after thoroughly analyzing the case. Smooth communication, reply from her team is very efficient. As a client, the whole procedure is clear to me. I'm glad to have her as my attorney.
–Song G. 
Joanne and her partner Dorothy M were awesome. They are very thoughtful, considerate, and knowledgeable professional who has made it very clear on all details of my case. They helped me secure my property. I appreciate all the work 🙂
—Anna Y. 
I was recommended to Zhou Law Group by one of my friends and they did not disappoint me. All the communication are clear and explained to me in the details. Joanne is very professional and knowledgeable.  I feel very confident to have her representing me in my case.
–Sarah L.  
Updated review My three-year divorce case eventually ended. The result is much better than I expected. Thank my attorney Joanne Zhou and I strongly recommend her to the people who's in need. Before I found Ms.Zhou, I had already spent $5k on my former lawyer for nothing. That lawyer even advised me not to divorce. Joanne told me not to talk too much about emotional matters to save my money but only to focus on what I want, the house and the children. The billing is very transparent and she charged very reasonable. I had no idea I signed a deed to give up the property. When my ex-husband wanted to kick us out and sell the house, Ms.Zhou asked me to submit an application for divorce immediately in the same day, applying to freeze the property, and to get a temporary alimony and support meanwhile. The application was approved in within 10 days only. That night was the first time I fell asleep without taking pills. In the first trial I got 100% child custody of my two kids and spouse support of $6864/month. I had been a housewife in the U.S. without any working experience for 12 years. Joanne Zhou encouraged me to open a daycare and for the first time I made money on my own in the U.S. I attended dozens of court trials in the last 3 years, and Ms.Zhou had always kept her highest-stand customer service. I had gotten much more than I expected at the beginning. Having Joanne Zhou in my life must be one of the luckiest things for me!
–Yi G. 
Joanne helped me a lot with her legal experiences and expertise. Thank Joanne from the depth of my heart for taking the time to listen to my concerns patiently, giving me professional suggestions on my behalf, and making me tension free.  I'd also like to thank Evie to help me with the whole process. She is very responsible and efficient. The Zhou Law Group is Highly Recommended! Thank you all.
–Kelly K. 
I talked to three different attorneys for my case, and Joanne is the most capable and efficient.  She is very patient and caring when listening to my case.  She is also very sharp and experienced in the field and she could quickly identify the core of my case.  Most importantly, she pays attention to what I want, what I need, and what the unique situations are in my case, so that she can quickly propose a few suitable, practical, and customized plans for my case.  While I find some attorneys sometimes simply choose the easy routes without even disclosing all the possibilities to the client, either out of the motivation to close the case as soon as possible or the unwillingness to put up a good fight for the best of the client, Joanne is definitely determined to fight hard and for the best of the client to the end.  I have recommended a couple of other friends to Joanne and they were happy working with her.  I highly recommend Joanne and her team.
—Y L. 
Joanne and her team are very professional and responsible. You definitely can count on them. They replied my emails promptly. I couldn't win the case without their help. Highly recommended! Thank you Joanne and Denise.
–Rae L. 
Lawyer Zhou is a very serious and responsible person for clients. I don't know what would have happened if I had not met her. I am glad that I got her help when I was in the most difficult time.
—Melody C. 
Joanne Zhou is a super great lawyer. She is nice and very responsible. I highly recommend her.
–zhu xuelian
I've hired the Zhou Law Group this April, 2021 to help me complete my separation process which the other side was dragging on. My previous legal team didn't have confidence on wrapping up my case in less than 10 years. When I found Joanne, she told me that a separation case should only take 1 year, well 8 months later we are 99% done. I am very grateful for closure in this painful process. I will recommend The Zhou Law Group.
—Calvin Feng
I had the best experience with Natalie Schneider as my attorney for my child custody case. I cannot say enough how professional, empathetic and efficient she was. She has a fierce knowledge of family law and the chops to back it up in court. I have had several attorneys before her and left them all for the same reasons; they belittled me, tried to coerce me to settle and were just plain lazy. (My last attorney made it a point to ask me several times how I could ever see anything in my ex and being with him was a horrible mistake). Natalie was respectful of my wishes and ALWAYS brought her "A" game; not to mention a decorum that we seldom see in family law. She was honest and pragmatic when I asked for her recommendations and opinions on how the case was going. She gave me all sides of the situation so that I was informed and prepared. When it was finally time to appear in court, I felt that I had the best case I could have brought before the judge and was confident that she had my back. Natalie shrewdly articulated our stance, citing laws as well as the nuances of my situation. She was truly my advocate. Nobody wants to be in this situation but 100% of the time, I would want Natalie by my side.

—J H.
I am very satisfied with the professional service from The Zhou Law Group. I had an international family issue, and I was provided with detailed explanation about what I should do. Joanne Zhou is very patient even I have many concerns and questions; and she professionally explained law to me in common language that I could understand. I would definitely recommend The Zhou Law Group to anyone who seek quality and professional family lawyer.
—Mia C.
When someone barking in the court, even though you know the truth, without an attorney, it's almost impossible to bring the truth to the court. Attorney Zhou is the best, after three times consultation and almost one year consideration, and whole year court hearing experience on my own, I sincerely decided to work with Zhou Law Group.

—Summer Zhao
Perhaps the thing that impressed me most about Joanne Zhou was nothing was "sugar coated". She was very straight forward and told me what to expect each step of the way. Going thru the separation and divorce from start to finish, Joanne kept me informed of each step and what the options were and what the risks were. Joanne's no-nonsense style and knowledge of the law and the system were invaluable. Thank you, Joanne!
—Samuel Jackson
Attorney Zhou was very professional and was able to help me find the point of the problem. I won a great victory in the first court hearing and asked the other lawyer to withdraw on his own. I am very happy to see the victory.

—Weili Ye
These guys are really great. They promptly respond to your inquiry in a timely manner with professionalism. Highly recommend them if you ever need any legal services.
—Kuei Yin Chen
Had a great experience with Joanne. My case was unique in ways that either confused some of the other attorneys (different law group(s)) I talked to or they simply didn't have experience as to how to deal with my kind of situation. Joanne, on the other hand, possessed comprehensive knowledge and was very aware of the nuances. She was able to explain to me very clearly as to what my options were and how their law group could help me. I left the consultation feeling confident.
—Abhishek S.
Joanne is a dedicated and conscientious attorney with undoubtful professionalism and, more importantly, a deep empathy to the client. During the long-time journey in the case, Joanne and her team kept their promise and achieved the result that was truly beneficial to me in retrospect. They were extremely patient in listening to your perhaps unlogic and unreasonable request that is understandable under the pressure and discussed with you and laid out a well-organized proposal for the next round confronting the opposing counsel. They never treat you condescendingly like a few other attorneys I heard from my friend. Rather they always speak in an equal and mild way which makes you feel respected and relaxed. In addition, they replied to your email and telephone call in a timely manner which is critical when you are in anxiety. I doubt if on earth there will be any other attorney that would be concerned about the customer comprehensively like her.

—Fang C
I'm glad to have Joanne as my attorney. Joanne gave me very professional advice in my case, very patient to listen to my concerns and answer my questions, most importantly, respect all my decisions. Joanne and her team are very professional, experienced and responsible attorneys. Highly recommend it!

—XUHONG L.
Honest, effective, and professional! Joanne stands head and shoulder above most attorneys I worked with. And an amazing human being.

—Eve C.
I would like to thank The Zhou Law Group for their legal, professional representation on my case. Special thanks to Natalie M. Schneider for representing me in all of my court appearings. Since the start she has been very professional, patient and she always explained the progress and strategies for presenting a strong case; she made me feel confident after seeing the work and preparation that she and the rest of the team did to get excellent results. Having the right attorney representing you in court can make a big difference on the outcome of your case; Therefore, I would highly recommend The Zhou Law Group for their knowledge and professionalism.
—Ezequiel Guillen
Joanne and Dorothy and all the people from the Zhou Law group indeed showed me their professional attitudes and kindness towards the customers. I worked with Joanne for almost half a year over a divorce case. Joanne listens to you all the time and provided her professional ideas with the intention to fight for the biggest retention or benefits from both financial or emotional aspects. Documentation and materials preparations are through and I'd recommend anyone who needs legal advice to their office!
—Derek Z
I worked with Ms.Zhou and Dorothy for my case and really enjoyed their dedication and professionalism. Both Ms.Dorothy really hear what my request is and fight for my right. They respond on time and provide guidance and strategies when I am lost. The supporting team is also very easy to work with and super helpful. Because of them, my case would be resolved after a long period during pandemic.I appreciate Zhou Law Group's help and would highly recommend them.
—Jen Z.
The Zhou Law Group is really great. The 2 cases they helped me were successful. They are honest and trustworthy. They promptly respond to your inquiry in a timely manner with professionalism. Highly recommend them if you ever need any legal services.
—Yu Jin K.
Positive: Professionalism, Quality, Responsiveness, Value. Attorney Zhou was very professional and was able to help me find the point of the problem. I won a great victory in the first court hearing and asked the other lawyer to withdraw on his own. I am very happy to see the victory.
–William Y.
I highly recommend lawyer Zhou. She is very experienced in family lawyer. In the case of mixed marriages between China and the United States, she has a great understanding of the laws of China and the United States and gives professional opinions.
–Yuhao Hu
I have to Thank Joanne and her professional team. They are very efficient, experienced and responsible attorneys. They are very patient to listen and answer your concerns and questions, give you very professional advice and respect all your decisions. I'm so glad and lucky to have her as attorney.
–Brian Wu
Today is 2020's Thanksgiving Day and I have chosen to write this commentary today in the hope that those in need can see it. I think I am really lucky to find Joanne Zhou as my lawyer. Because of my ex-husband's financial control, I had no money when I found her, and she decided to take over the case without receiving any payment from me. And she did everything she could to help me get whatever was best for me. She also constantly encouraged me to be brave and strong, and gave me the confidence to believe I can have a good life. With her help, I went through the most desperate days. I'm not done with my case yet, but I feel like I've been reborn in the process, and I couldn't have done it without her, without the cooperation of the team of The Zhou law Group. Now I'm with my two kids safety and peaceful. Thank you!Happy Thanksgiving!
–Mian Tang
Joanne and her assistant Evie are the absolute best people aside from being professional and knowledgeable. They are so compassionate and will listen to you with their full heart, and help you without thinking about payment yet. I am going through a tough time through my marriage life and feel I am unsafe all the time. They told me on how to protect myself, and keep records as things go bad. I truly appreciate them so much! I can tell they are not money grabber, and is so reasonable in terms of pricing, their professionalism and quality of service is the best in the bay area! If you are looking for legal help with divorce, they ARE your GO TO.. just want to thank you thank you thank you
–Rachel Li
I originally wrote a poor review of this firm. I am happy to report that Joanne and especially Evie has been amazing in the follow up for my friend and worked in a most professional manor, and in fact went above and beyond what they needed to do! I would highly recommend Joanne and her staff if you are in need of family law.
–Dennis Teifeld
Joanne and her team are very professional and efficient, they patiently listen to you and come out with the solution that is closest to what you need. Every thing is done so quickly and I all I need to do is to provide the paperwork needed for my case. If you are going through a difficult moment in your marital life like me then you want to have someone who can help you solve the problem and not to become one more problem. The other plus about The Zhou Law Group is that they can speak both Chinese and English which makes understanding legal terms easier for me. I have hired 2 other lawyers previously for other kind of legal matters, one is a money pit and the other not only is not knowledgeable in the matter, won't listen to me and put me on hold for months when I needed him.
–Ru-Tso Luo
Some of the friendliest staff I've ever had the pleasure of talking to, and extremely knowledgeable as well. I wouldn't trade my experience here for any other, and I'm certain to come back here if I ever need to; it was because of helpful folk here that my case went through, and I'm certainly thankful for that!
–Candy Lu
One and a half years ago, when I first stepped in Joanne's office, I was helpless and hopeless, and my poignant mind was full of the plans for the worst-case scenarios in my divorce after I used up all the conceivable means at my disposal. Joanne consolidated my determination and helped me strengthen my faith to believe that justice might be late but would never be absent. During the past year, she and her team helped me circumvent all kinds of reefs and whirlpools and finally reached the agreement which I did not conceive in the first place. I admire their professionalism and affinity. They treat you like a friend and are pretty responsive and occasionally serve as a psychiatrist. On the other hand, they hold the principle telling you what you should and shouldn't do rather than unconditionally follow your instructions like some other irresponsible lawyers. You might be occasionally derailed and obfuscated by a few short-term temptations during the negotiation but they will quickly avert you and put you back on the right track and remind you of the long term goal which turn out to be truly beneficial in the long run. You might have come across a few other law firms that may have numerous positive reviews. Trust me that it is merely their marketing strategy. Once a lawyer focus too much on marketing, they inevitably lack attention on the case itself. Some lawyers are good at engaging but would soon treat you as a cash cow to deplete your pocket and leave a mess for you. Because of the aforementioned, I was once under misapprehension that lawyers are only profit driven. However, Joanne and her team overturned my pejorative stereotype on lawyers. They treat you fairly and really live up with their moral standards and tried their best to save cost for you in tandem with consistent high-quality service, which I personally witnessed in the past two years. I prefer those who is down-to-earth, steadfast, and truly dependable when you are in depression and that is the reason why I stick with them unwaveringly all through my long-time case. I was once lost but am now found and I attribute my salvation and resurrection to them. I would express my sincere appreciation for her and all team members for their efforts and encouragements during the endeavor. I am forever in their debt. So don't get cold feet and drop a line to them when you are in trouble!
–Fang Cai
I couldn't win the case without Joanne and her team. I was lucky to find them. They are the ones you can count on. Highly recommended!
–Rea Lee
I really enjoy the service they provided. They are so responsible and professional. They are also very efficient. I cannot say enough good things about them. They never fail me!!
–Messy Benny
Joanna reviewed my Marital Settlement Agreement which was drafted by another lawyer. She's very professional in terms of knowledge and efficiency. She clarifies all of my questions, concerns and gave me very practical suggestions, so that I can make a better decision with my current situation. Highly recommended!
–1192003
Lawyer zhou is a very serious and responsible person for clients. I don't know what would have happened if I had not met her. I am very glad that I got her help when I was in the most difficult time
–Rebecca Chu
Highly recommended. Joanne and her team took care of a couple of cases for me last year. They are dedicated and professional, truly as a matter of pursuing their client's benefits. Document preparations were great, responses were rapid, and they get the job done.
–Bin Li
After a friend introduced to me lawyer, Joanne Zhou when I was the most helpless, if it was for not her, my children and I would be homeless. Thanks to Mrs. Zhou for her help over the past year, not only did I get the house, but when my ex-husband pretended to be mentally ill, Mrs. Zhou also got a high amount of support for me and my children. I want to say that a good lawyer is really important, and is highly recommended.
–Yi Gong
Very professional service, efficient and very considerable, they can handle the tough case and trustworthy.
–Rock Zhang
Joanne and her team have been very dedicated to my case, highly recommended!
–Rihong Liu
Very professional service, most importantly she fights for you!
–Jinghui Peng
Attorney Joanne and her staff are very professional; They always look after their clients/cases and always ahead of the game; I would not come out in flying colors had it not been Joanne Zhou and her dedicate staff.
–Sam Chhuon
Ms. Zhou: The New Year is coming. Thank you for using your very professional legal knowledge to help me protect my rights. During this long process, I have learned a lot of legal knowledge. I hope you can help more people to use the weapon of law. You are so busy, but it would be amazing if you can hold some lectures of legal knowledge, letting us know how to protect ourselves. Thank you and your professional team, especially Evie, and wish your team a Happy New Year!
–Wellness8777wl
Joanne and her team saved me. They are the most professional, efficient and experienced attorneys I've met. I got the results I wanted, even though the opposing party was very difficult to deal with. They respond timely, within one day or two. They're also considerate on attorney fees. I feel very fortunate to have them represented me.
–SL Y.
Joanne Zhou and Denise are very professional and patient. They helped me with my case. Joanne is very knowledgeable and reliable. She always listens to you, gives professional advice, respects your decision, and advocates for you. So lucky to have her as attorney.
–Dani Z.
Dorothy Mou at the Zhou group was a kind, communicative, and respectful advocate during a recent small civil matter. She really took the time and care to listen and understand me as a person, while also being mindful of billing and keeping things efficient and on-track. Document preparation and submittal was prompt and clear, and a fair outcome was achieved with their help. I hope to never need such services again, but if I ever do, I will call Zhou Law Group.
–Matt C.
I had a difficult time finding an experienced attorney to help me with my adoption case.  I interviewed dozens of attorneys, either they didn't take my case, or they were uncertain whether it was doable until I found Attorney Joanne Zhou and her team, it was a total turning point, and I received the utmost level of service. Attorney Zhou was attentive, prompt, and responsive.  She returned every email and every phone call with prompt answers and stayed closely with me during the process and kept me informed of the direction and possibility of my case.  I was very impressed with the way attorney Zhou interacted with me, always listened with sympathy and caring, and responded with options and solutions.  I was very happy with my decision of choosing Attorney Zhou to be my attorney and highly recommend her for your legal needs.
–Bing C.
I have been using Joanne Zhou's professional legal service for over a year. She is a very responsible attorney. She thinks from her client's perspective and fights for the client's rights and benefits. She also follows up with me regularly and always thinks a step ahead. It makes me feel calm dealing with legal matters with her help.
–Isabel L.
The attorneys from the Zhou Law Group are professional, attentive and responsive. The whole process from the preparations to filing was quite smooth. We like their services.
–Yunyun
Their Legal Team and the Attorney Mrs. Zhou, are wonderful and know what they are doing. I also really appreciate the fact that they provide different languages for any legal service. Lastly, their paralegals are always available to answer any of my questions and really make me understand the process of my case.
–Margarita Cruz.
Words cannot express how tremendously grateful I am to Attorney Zhou and her staff for their heartfelt compassion and personal attention they offered during one of the most difficult times in my life.
They have been very helpful and understanding with my family and my situation.  They always keep me informed about everything regarding my case.  I know that I can trust them and I know that my case will succeed in their hands.
–Reyna Martinez
Attorney Joanne Zhou is a very professional and dedicated Attorney. She knows what she is doing and always right to the point.  She stands by her clients throughout the ordeal and that goes to all of her staff as well.
I would not come out in flying colors had it not for Attorney Zhou! If I need any legal advice in the future, I would not hesitate to retain her services.
–Samuel C.